Follow these instructions to find the Constant Contact ID
Log in to your Constant Contact Account
Constant Contact Home Page (Dashboard)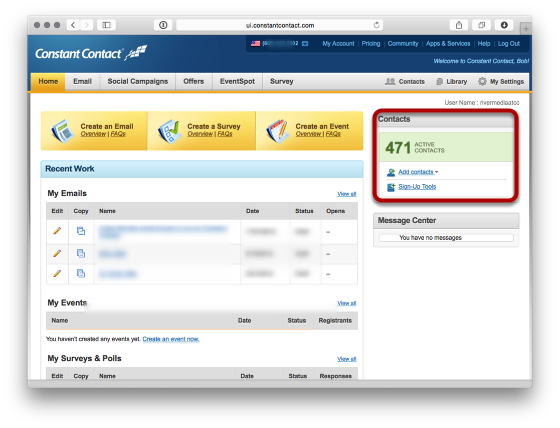 Locate the 'Contacts' section on the Home Page (Dashboard) of your account and click "Join My Mailing List Box"
Access the Wizard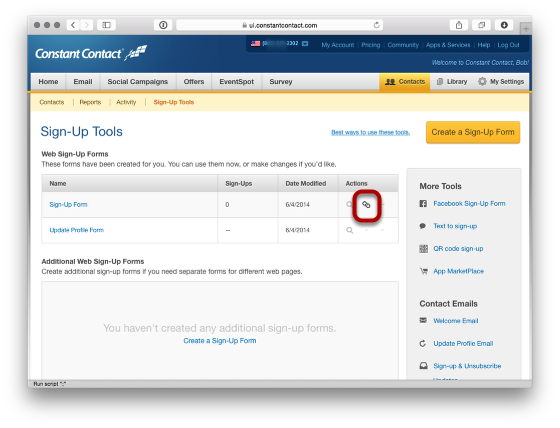 Although you don't really need the signup form, this is the only method to obtain the ID.
1) Click on "Start Wizard to generate HTML code", once a form is created, you will copy the CC ID number from there.
2) For a video tutorial,click on the question mark icon.
Using the Wizard
You can use any of the three options to obtain the ID, however, we will focus on the 'Text Link' because it is the simplest.
Locate the "Next" button near the top right and click it.
On the next page, because we aren't really interested in creating an actual link, ignore any settings and just click the "Next" button again.
Obtaining the ID from the code
Search this HTML code and look for the "m" attribute. You will find it in the "a href" tag and looks like this:
<a href="http://visitor.r20.constantcontact.com/d.jsp?llr=qgzkwjdab&p=oi&m=1204058225699" target="_blank" style="font-family:Arial; font-size:13px; color:#000000;">Sign up for our Email Newsletter</a>
Setting the Module Parameter

That's it, just copy the number after "m=" and place that in the Constant Contact ID parameter in the module.
This tutorial was created using ScreenSteps from BlueMango Learning Systems.
To use ScreenSteps with Joomla, read this tutorial.